>
>
>
2000-4000kw Diesel Generator Sets
2000-4000kw Diesel Generator Sets
Brand :WEICHAI,YUCHAI,JICHAI
Product origin :CHINA
WAT 2000-4000kw Diesel Generator Sets can choose WEICHAI 16M55 engines、YUCHAI YC16VC engines、JICHAI 16V190 engines and other diesel engines。
WAT 2000-4000kw Diesel Generator Sets(WEICHAI series),WEICHAI 16M55 is a brand new product of the new generation high-end engine M55 platform; The power covers 2646-3600kW。
1.High reliability: the cylinder block and cylinder head adopt the grid structure of vermicular graphite cast iron;
2.High use economy: high filtering precision fuel filter and centrifugal rotor oil filter ensure high filtering precision, provide cleaner fuel and oil, and the filter element replacement cycle can reach 500 hours; Reduce the use cost; 2200bar high pressure common rail, good fuel atomization, low fuel consumption;

3.High maintenance convenience: observation windows are arranged on both sides of the machine body to facilitate the replacement of connecting rods and connecting rod pads;
4.Good environmental adaptability: reserved water heating inlet and outlet interface, good cold start performance in low temperature environment.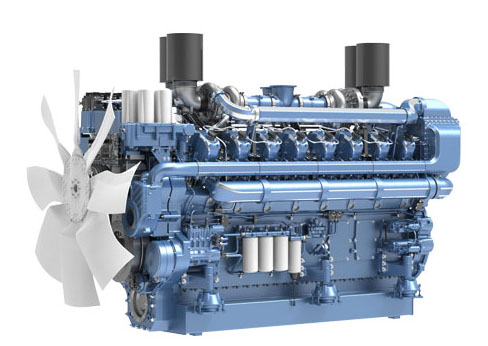 WAT 2000-4000kw Diesel Generator Sets(YUCHAI series),YUCHAI YC16VC engine the machine body is made of high-strength materials, arc stiffening rib grid structure, four bolt main bearing structure, with high rigidity, low vibration and low noise. The crankshaft is made of high-quality alloy steel by full fiber extrusion forging;The electric single pump, four valve, high efficiency supercharging and intercooling, and Yuchai combustion chamber technologies are adopted, with low fuel consumption, low emissions, excellent speed regulation performance, and fast and powerful loading.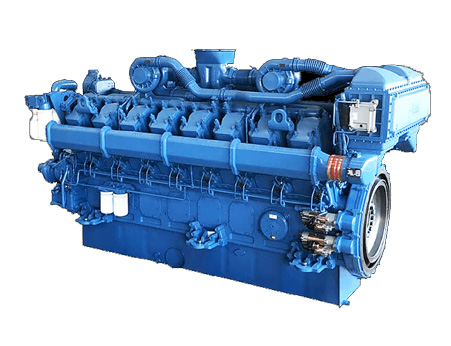 WAT 2000-4000kw Diesel Generator Sets(JICHAI series),JICHAI 16V190 engine high supercharged diesel engine is a V-type, four stroke, direct injection, exhaust gas turbocharging and air cooling high-speed high-power diesel engine. The utility model has the advantages of excellent technical performance, reasonable structure, convenient use and maintenance, etc. The H16V190 series electronically controlled diesel engine uses ECU control technology to conduct supercharging matching, intercooling optimization, etc. Its emission performance meets the non road country III emission requirements. During the operation of the diesel engine, ECU accurately controls the injection time, injection pulse width, etc. of the high-pressure fuel pump, so that the diesel engine can better organize combustion, and meet the national emission regulations on the basis of giving consideration to power, economy and reliability. The electronic control technology makes the diesel engine have the characteristics of fast speed response, high power and low emissions.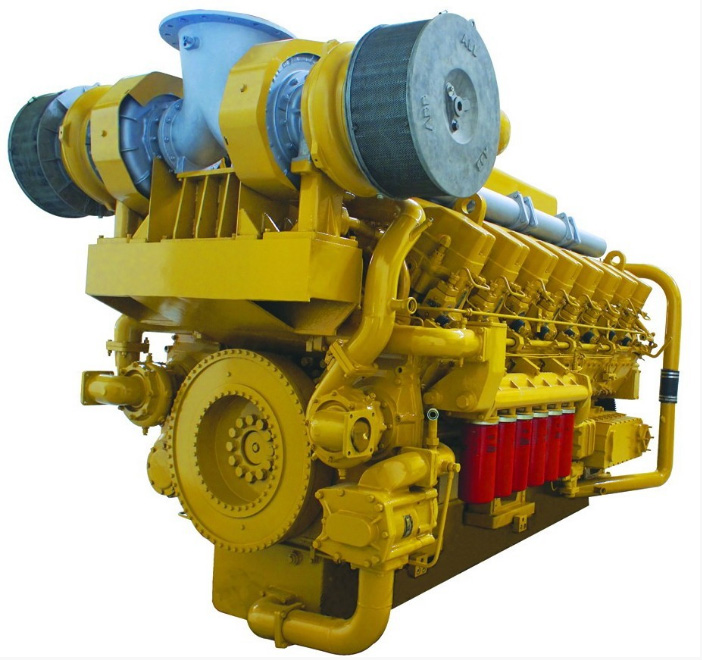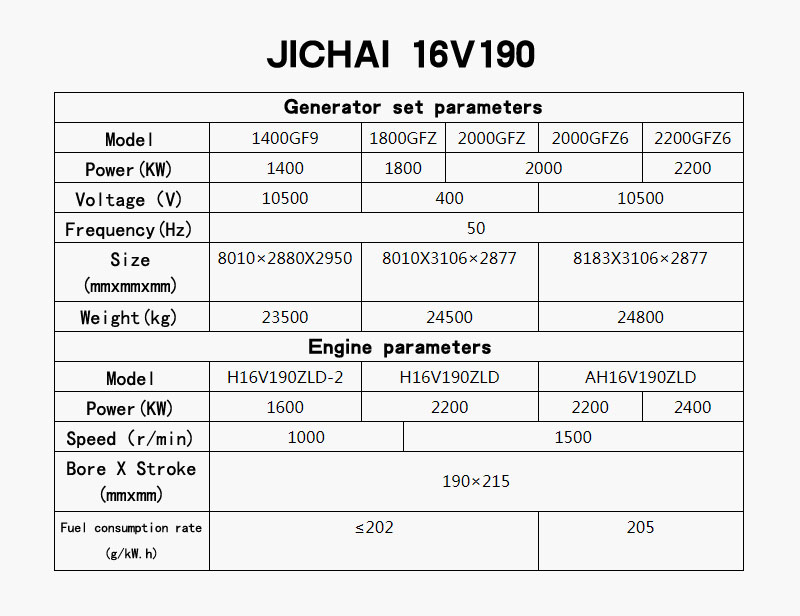 Diesel generator set is widely used in industry, commerce, schools, hospitals and other small and medium-sized enterprises for long-term (temporary) electricity; Generating sets, construction machinery, ships and other fixed power;
Diesel generator set is widely used in industry, commerce, schools, hospitals and other small and medium-sized enterprises for long-term (temporary) electricity; Generating sets, construction machinery, ships and other fixed power;
Get the latest price? We'll respond as soon as possible(within 12 hours)