>
>
>
Asia's Deepest Onshore Oil and Gas Horizontal Well Completed in Tarim Basin, China
Asia's Deepest Onshore Oil and Gas Horizontal Well Completed in Tarim Basin, China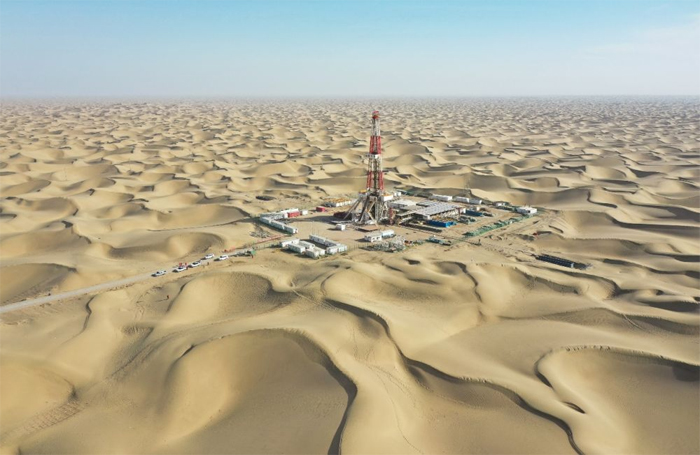 The Gole 3C well, located in Fuman Oilfield in Tarim Basin, Xinjiang, successfully completed drilling on September 9, breaking the record of the deepest oil and gas horizontal well in Asia with a well depth of 9396 meters.
The Gole 3C well is located in the hinterland of the Taklimakan Desert, which is rarely visited. The underground geological structure is unusually complex, and the buried depth of the oil reservoir is generally over 8000 meters. Geological understanding and reservoir identification are extremely difficult, with characteristics such as ultra-deep, ultra-high temperature, and ultra-high pressure that are rare in the world. Unlike traditional vertical wells that vertically penetrate the oil layer, this well is drilled using horizontal wells. After drilling to a depth of about 8000 meters, it is necessary to control the drill bit to drill in a direction parallel to the oil layer, accurately penetrating the oil and gas reservoir in deep underground.
Zhou Bo, Vice President of the Oil and Gas Engineering Research Institute of Tarim Oilfield, introduced that in order to overcome the exploration and development difficulties of ultra-deep and complex reservoirs, Tarim Oilfield has deepened the geological theory of ultra-deep oil and gas, applied the independently developed 9000 meter drilling rig in China, equipped with domestic equipment and technology, and joined forces with multiple units to overcome many technical problems, achieving the goal of "seeing clearly" ultra-deep oil and gas, "drilling deeply" in difficult formations, and "drilling accurately" in complex structures "Reliable" under extreme operating conditions.
Get the latest price? We'll respond as soon as possible(within 12 hours)