>
>
>
500-1000kw Diesel Generator Sets
500-1000kw Diesel Generator Sets
Brand :WAT,CUMMINS,DOOSAN,SHANGCHAI,WEICHAI
Product origin :China
Engine displacement of 1.4~91 litres, power range of 31~3500 horsepower, widely used in engineering machinery, mining equipment, agricultural machinery, ships and railways and other off-highway equipment. Cummins engines not only have a reputation for first-class reliability, durability and fuel economy in the industry, but also remain the industry leader in meeting increasingly stringent off-highway motor equipment emissions (Tier3 +) and ship-mounted emissions (IMO standards)
WAT 500-1000kw Diesel Generator Sets(DOOSAN series)
DOOSAN series diesel generating set is my company HanGuoDou mountain group original DAEWOO series oil machine configuration zhongqi gengerator.DAEWOO serisd diesel engine,its small volume,light weight,resisting process loading ability,low noise,economic and reliable and so on characteristics widely used in generating set of form a complete set,the technology advancement in the forefront of peers.My company configuration DAEWOO diesel generator set of good quality,reliable performance,operation and maintenance cost is lower than similar JinKouJi,price than other brand domestic,import type absolute laed.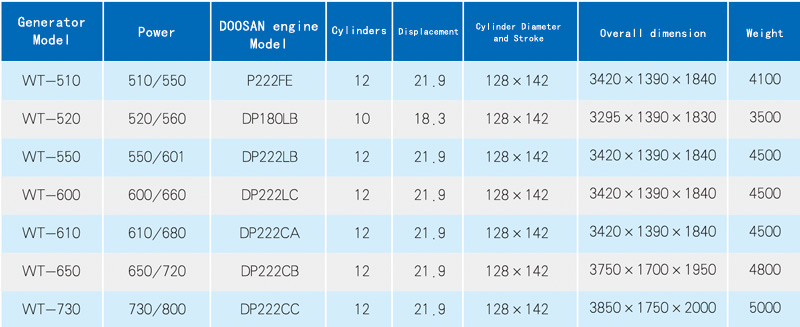 WAT 500-1000kw Diesel Generator Sets(SHANGCHAI series)
Founded in April 1947, Shanghai Diesel Engine Co., Ltd. covers an area of 700000 square meters, has more than 3000 employees and a net asset of 1.9 billion yuan. Shangchai engine products have excellent power performance, economy and reliability. With simple supporting facilities and convenient maintenance, the market holding of millions of units and a good after-sales service network, customers can truly eliminate the worries of maintenance services.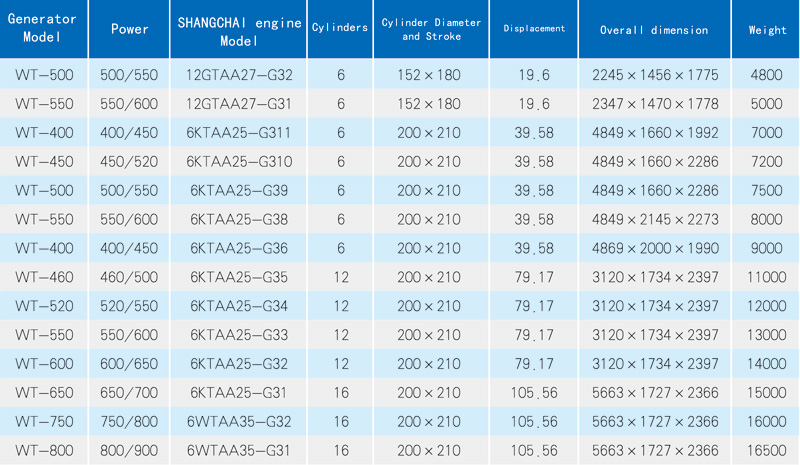 WAT 500-1000kw Diesel Generator Sets(WEICHAI series)
Weichai series diesel generator sets are divided into Weichai R series and Weichai Shares series. With mature product quality, grade, stability, reliability and economic benefits further improved, Weichai R series products have successfully passed European and American EPA, CE emission and safety certification, excellent cost performance ratio, perfect after-sales service and adequate supply of accessories, promoting a high market share of small power units.

WAT 500-1000kw Diesel Generator Sets(YUCHAI series)
Yuchai engine block and cylinder head are made of alloy cast iron with high degree of strengthening, and integral forged steel crankshaft and sliding bearing are used, which are small in size and light in weight, with high reliability; The overhaul period is more than 12000 hours. The unit is characterized by compact structure, large power reserve, high reliability and good speed regulation performance. The unit is applicable to industrial and mining enterprises, post and telecommunications transportation, shopping malls, hotels, government institutions, schools, high-rise buildings and other places as a conventional power supply or standby emergency power supply.

Get the latest price? We'll respond as soon as possible(within 12 hours)